Stab Breaks 12 INCH
Beatsqueeze Records
DIESS070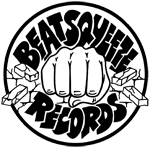 Beatsqueeze presents Stab Breaks by Ugly Mac Beer

Limited edition Blood Splatter  12 inch vinyl. 
Only 500 handwritten numbered copies.
With a heavy reference to the Scream series of films in the 90's.
Side A (Blood Side) is composed of 12 skip proof loops at 133bpm. Full of terror, sound effects and voices from Scream!
Side B (Ghost Side) is a sound bank at 133bpm, with orchestral music, brass, distressing violin, dark piano, choirs, voices and other sound effects.
Includes
A download card with the vinyl contents and 10 extra instrumentals composed by various Beatsqueeze artists
A 60x30cm poster
2 stickers

Customers who bought this also bought