Dangerdoom - The Mouse And The Mask Double LP
Essentials
LEX036LP
Dangerdoom - The Mouse And The Mask Double LP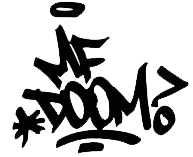 "The Mouse and the Mask" was produced by super-producer Danger Mouse. The album features CeeLo Green (also of Gnarls Barkley), Talib Kweli, Ghostface Killah, Money Mark and the cast of cult cartoon show Aqua Teen Hunger Force and remains MF DOOM's best selling album to date.
Lex has a history of lavish packaging but this remains one of the lushest sleeves in the catalogue. Design by EHQuestionmark, the outer sleeve is made from thick translucent textured plastic with DOOM's mask printed on the cover, and mouse ears on each side of the mask forming a pattern that looks like a Rorschach test (a technique reused in another Danger Mouse project six months later). 
The inner sleeves, visible through the outer at first glance pattern based on an Ishihara test, but inside the circles in the pattern are tiny icons depicting different disasters - climate change, acid rain, holy war, nuclear leaks.

Customers who bought this also bought