Numark Scratch 2 Channel Mixer
Numark
NSM2-CH


The Numark Scratch 2 Channel Mixer.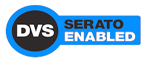 The Numark Scratch is an exceptional 2-channel DJ battle mixer that comes equipped with a wealth of professional features and functions that allow you to cut, mix, and scratch creatively with confidence. 
The all-new Numark Scratch comes with 24-bit high-quality audio that works seamlessly alongside Serato DJ software and combines professional features with versatility, ease-of-use, and an exceptional built-like-a-tank construction. 
The Numark Scratch comes with six dedicated effects buttons that offer direct access to six software effects and deliver a comprehensive array of effects with timing and intensity control. 
The six effects are triggered via a pair of intuitive performance based toggle paddles that are usually only found on premium priced DJ mixers. This mixer also features four performance pads that allow you to trigger hot cues, slip rolls for creative beat stabs and build-ups, and trigger samples which enable you to get super-creative with your mix transitions. 
There are also two dedicated looping encoders, one for each channel, so you can set loop lengths and turn loops on and off with ease so you can unleash your creativity. Each channel also features a dedicated low/high-pass filters that are not software dependent, so the filters work effectively with analogue turntables.
The Numark Scratch DJ battle mixer comes fitted with a professional standard innoFADER crossfader that is built especially for scratch DJs and provides you with the smoothest action possible as well as bullet-proof reliability making it ideal for craziest non-stop action and even the heaviest handed of scratch DJs. 
This mixer offers professional quality 24-bit audio that is unrivaled and features an impressive 108dB signal to noise ratio. The rear of the mixer comes with a range of audio connections including RCA phono connections for turntables with GND lifts and can be set from line to phono for media players. 
Serato DJ Pro with DVS license included
InnoFader scratch crossfader with reverse and slope control
6 direct access effect selectors with dual paddle launch triggers and Dry/Wet FX control
8 performance pads to access hot cues, rolls and samples
Filter knobs to create audio sweeps
Dedicated instant looping knobs
Phono/Line inputs
Combo mic input (XLR/1⁄4-inch) w/ level and tone control
108dB S/N output with 24-bit digital sound quality
Balanced high output XLR connection
Separate booth/zone output
Dual headphone output cueing system (1/4-inch/1⁄8-inch)
Prime Loop Sound Pack included ($200 value)
SoundSwitch lighting control software 2-month subscription included
Power supply -Internal 100v – 240v                               
Dimensions 12.05" (L) x 9.61" (W) x 3.32" (H)
Further specifications can be found here.
Full manufacturers warranty. Details can be found here.

Customers who bought this also bought