Ice Cold Cutz 7 inch
Crabcake Records
CCR003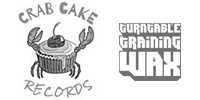 Crab Cake Records and Turntable Training Wax present Ice Cold Cutz!

Limited edition cold WHITE 7 inch vinyl.

Crab Cake Records teams up with TTW, bringing you a deep cut non skip 7" DJ scratch tool.
Straight up ozone protective skipless loops.
weighing in at 40gms.
Distributed by TTW.
Free digital download currently available with this release.


Customers who bought this also bought