PHASE Essential
Music World Media
MWMPE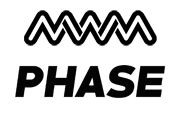 Music World Media bring you the PHASE Essential.
*****
Free UK Shipping.

*****
PHASE is a 2-channel wireless controller that lets you control tracks playing from DJ software without needing cartridges. A first-of-a-kind technology that offers a level of accuracy and steadiness never reached before. Easy-to-use and intuitive, PHASE connects to your DVS interface through its 2 stereo RCA outputs, fitting any DJ setup.
The first Wireless controller for DVS
Thanks to a first-of-a-kind patented technology, two remotes capture the turntable's rotation information and transmits this information to a receiver. The receiver will then process the information and apply it to the digital signal it generates to send it to your setup.
PHASE completely overcomes the limits of DVS technology to provide the most reliable solution for performers.
Flawless performances
Every rotation movement, even the smallest, is detected by the remotes and instantly sent to the software, offering a real-time audio control with unrivaled accuracy. This technology guarantees a seamless signal quality in any situation.
No more issues with damaged needles, defective turntables or rumble from the heavy bass. PHASE provides the same quality and comfort as DJ controllers, while keeping the feeling and accuracy of real turntables.
*****
2 PHASE Remotes
1 PHASE Receiver
2 RCA cables
1 USB Cable
*****
The receiver:
Compatible with any DVS software: Serato, Rekordbox, Traktor, Virtual DJ
Compact and robust: fits in any DJ setup and is impact-resistant
2 RCA outputs to plug to the line inputs of your DVS
Class-compliant USB connection to power and update receiver
Dimension: 25 x 124 x 77 mm
The remotes:
Ultra precise sensor that makes Phase more accurate than standard DVS
10h autonomy for each remote
Standard size hole that perfectly fits your turntable's spindle
Magnetised surface to maintain the remote
Remotes automatically charge on the receiver
Customise the LED colour that serves as a marker on your record
Dimension: 66 x 25 x 8,6 mm
| | |
| --- | --- |
| Minimum System Requirements | Win OS 10 ver. 17134.0 > Mac OS 10.11 > |
| Configuration Software | can be found here |
| Phase Q&A's | can be found here |
| Technical support | can be found here |
'How to' tutorial can be found here.
Full manufacturers warranty - information can be found here.

Why not choose one of our bundles?
Customers who bought this also bought