PHASE Ultimate
Music World Media
MWMPE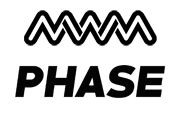 Music World Media bring you the Phase Ultimate.
*****
Pre-order - expected delivery in Sept 2018, subject to??terms.??Any other product(s) ordered with this pre-order will be shipped together.
Free shipping with additional TTW goodies!
*****
Phase makes it possible to control tracks playing from DJ software without using neither a timecode control vinyl nor a cartridge, thus offering a level of steadiness and accuracy never reached before!
It completely overcomes the limits of DVS technology, from rumble, jitters and skips...
It is already considered by many industry experts and DJs to be a potential game-changer in the industry!
Phase Ultimate comes with 4 remotes - so you can charge 2 remotes and perform with the other 2 at the same time! The ultimate longevity Phase experience for serious performers!
*****
- 4 Remotes
- 1 Receiver
- 2 RCA cables
- 1 USB Cable
- 4 Magnetic stickers
*****
The receiver:
- Compatible with any DVS software: Serato, Rekordbox, Traktor, Virtual DJ
- Compact and robust: fits in any DJ setup and is impact-resistant
- 2 RCA outputs to plug to the line inputs of your DVS
- Class-compliant USB connection to power and update receiver
- Dimension: 25 x 124 x 77 mm
The remotes:
- Ultra precise sensor that makes Phase more accurate than standard DVS
- 10h autonomy for each remote
- Standard size hole that perfectly fits your turntable's spindle
- Magnetised surface to maintain the remote
- Remotes automatically charge on the receiver
- Customise the LED colour that serves as a marker on your record
- Dimension: 66 x 25 x 8.6 mm
Full manufacturers warranty.