Rane SEVENTY-TWO MkII Battle Mixer
Rane DJ
RANE72/MKII



#battleready by RANE DJ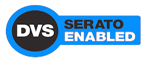 Includes the TTW All In One Digital Collection!
The RANE SEVENTY-TWO MkII is a powerful and versatile two-channel DJ mixer, designed for professional DJs. 
The SEVENTY-TWO MkII offers a range of features designed for performance. Included are 16 backlit Akai-style MPC performance pads (8 per channel) which offer adjustable threshold and aftertouch for remixing, mashing up tracks, and controlling loops on-the-fly. They also offer Serato control, plus special modes for Pad FX, Crossfader FX, Transport, Slicer, and video control.
Each channel features a dedicated low/high pass filter control, as well as chain-integrated Serato software effect control and dual FLEX FX engines, allowing you to control two effects simultaneously within Serato. The die-cast aluminium toggles allow you to control your FX in a new way, similar to using a modulation wheel on a keyboard. The mixer features a dual FX engine, allowing you to combine the internal effects with the Serato DJ effects.
Users can now experience RANE's brand-new MAG FOUR fader. This is a new patented Mag Fader design offering a unique touchless, tension-adjustable fader with perfect tactile feel and precision, combined with durability and longevity.
The SEVENTY-TWO MkII mixer features a solid steel construction, built for non-stop, heavy duty use. It has been designed for durability, so you can ensure the mixer always performs at its best, no matter how much you use it. Additionally, the SEVENTY-TWO MkII features steel protective roll bars that can also be used as handles for quick transport.
The 4.3-inch colour touchscreen is a new feature that not only offers a moving waveform display, but also X/Y FX control, allowing you to control your effects with precise finger movements. It also displays your tracks, allowing you to navigate through your songs and playlists quickly when performing. As well as this, the touchscreen also displays your cue points, allowing you to see when the best parts of the track are coming up.
Features:
(3) MAG FOUR faders with reverse, contour and cut-in adjustment
External and internal crossfader tension adjust controls
Toggle Instant Double / Silent Cue / Sync Controls
Dual DVS inputs - Aux or Phono/CD
Solid steel construction—built like a tank for non-stop, heavy-duty use
4.3-inch Touchscreen for moving wave display, FX control, song selection and user customisations
Dual Flex FX engines, one for each channel
Advanced Serato control: Chain-integrated Software Effect plus one internal Flex Effect per channel
Dual USB connections for DJ handoffs
16 Akai MPC-style performance pads, independent mode controls per deck
Two microphone inputs – combo Neutrik, on/off, tone, mic/line level switches
RCA session Inputs/outputs, balanced XLR, Main Out, balanced ¼-inch, Booth Out
USB controller inputs for RANE TWELVE Battle Controller
Update firmware and Serato DJ Pro to access Scratch Bank - load up to 32 samples from a touch of a button
Serato DJ Pro DVS license, Pitch n Time plus Serato DVS Vinyl included 
Further specifications, user guides and downloads can be found here.
Full manufacturers warranty. Details can be found here.

Customers who bought this also bought