#2018
First and foremost, thanks to everyone that has supported the TTW journey since conception. None of our achievements would have been possible without all of your support.
#scratchinschool
You may be aware from our previous news posts, TTW are honored to be involved in the following Programme as a partner. The purpose of the Programme has focused on introducing Turntablism into the School curriculum.
Pilot Project
From the 2016 to 2018 academical years, the pilot version of the unit has been delivered across several secondary schools around Leicestershire . One class unit set of equipment has reached over 2500 pupils from KS3 to FE, mainstream to SEN. The feedback has been positive from pupils and teachers alike.
- Tim Clay (Head of Performing Arts at St Martin's Catholic Voluntary Academy)
"I have nothing but the highest praise for this scheme of work and every lesson was ensured to contain high quality learning and enabled smooth delivery. The students were so engaged and all have made excellent progress. I wouldn't be surprised to see some students, as a result of this unit, consider taking GCSE music and using turntables as their instrument."
- Craig Cubitt (Head of Performing Arts at Ivanhoe Specialist Technology Academy)
"We managed to teach nearly all of our Year 7 students, half of our Years 8 and 9 students, more students in an extra lunchtime club and even some staff in after-school sessions – a total of about 650 people in all. The project was excellent, as was the equipment, and the scheme of work extremely well planned."
The unit of work has received media attention, being featured on BBC Radio Leicester and having a two page article feature in the national Music Teacher magazine.
The New Equipment - Portablism
Following feedback from the pilot version, new equipment and new versions of the units have been created. Instead of full size turntables, which commandeered a great deal of space in classrooms and limited independent practice opportunities, TTW are providing fully portable, lightweight turntables which allow for truly independent pupil practice and can be stored away easily after each lesson.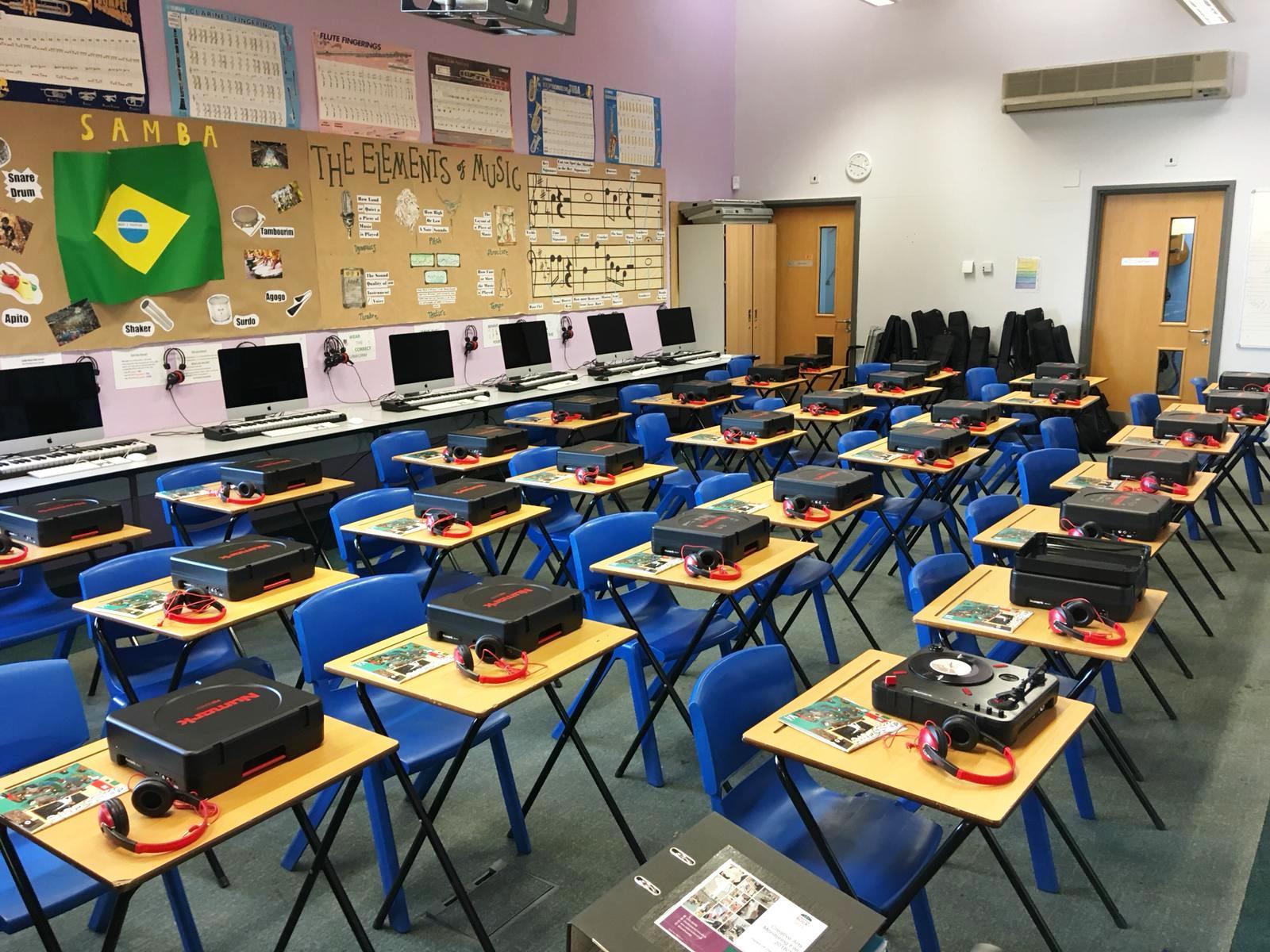 The New Unit Offer
Primary Schools – A 6 and 12 lesson version of the unit has been written and differentiated for Primary schools. This unit is ideal for Y5 and Y6 learners. Each lesson is written to last between 45 mins to an hour.
Secondary Schools – A revised 6 lesson unit and a 12 lesson unit has been created for secondary schools. With a variety of ways to differentiate the activities, these units can be taught from Y7 to FE. Each lesson is written to last between 45 mins to an hour.
In US terms, this is basically Elementary, Junior High and High School.
Music Curriculum Outcomes and Assessment
Across the units, a variety of curricular outcomes can be taught and assessed:
Pulse and Rhythm
Graphic Notation (using an adapted version of a universally used turntable notation method)
Performance (paired and independent)
Composition (paired and independent)
Melodic Performance and Composition (using our bespoke Class Cuts v1 melodic scratch record)
Exploring a diverse contemporary genre
Appraisal, amendment and (self, peer and teacher) assessment opportunities.
Moving forward - 2019
Besides more units being regularly introduced - it is also time for incorporating Turntablism with a Tech syllabus.
Enter Teenage Engineering.
There will be some super exciting news later on in the year, so stay tuned!


#turntabletrainingwax
So much has happened during 2018. We spent a lot of time preparing and migrating our 'old' store platform to the current one. The new workflow has simplified and improved our processes.
The dealership with RANE was a major coup and perfect timing for us, as we launched the new web store platform introducing the products availability at the same time. For us it was a great way to open up and display a new shop window with such a high end product.
Securing the distribution of PHASE for the UK was also a major milestone for us and we look forward to the introduction of the product in early 2019.
Besides introducing new products and brands, we are excited about the collaboration releases with other artists on the record label itself, most notably the highly regarded UK producer Zuckell. Also, the parallel working with other labels, like Crab Cake Records, through our processing channels, has also been interesting. We aim to do more of these collaboration initiatives in 2019.
#portablistlounge
The Portablist Lounge event just keeps going from strength to strength. Portablism is here to stay and we will continue to deliver this annual event alongside Magma Bags and Jesse Dean Designs.
During 2018, BEATGEEK was established with the first event being held in London. The event incorporated a DJ Trade Show, Portablist Lounge and the annual DJcity UK link up.
The event attracted a large concentration of professional DJ's, including World Champions.
Portablist Lounge will be back in 2019.
Have a fantastic leap into 2019.
As always, many thanks for supporting TTW!

#TTW #scratchinschool #portablistlounge #2018
#2019